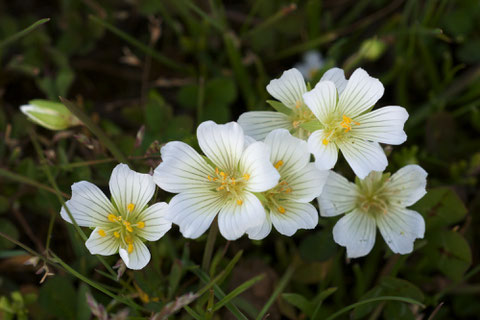 This is one of MY FAVORITE oils... Meadowfoam Seed Oil!  This is the oil to use if you want Label-Appeal!
Also, because of its naturally high vitamin E content, it's shelf life is up there with Fractionated Coconut Oil, -without that awful dryness!  In fact, it does absorb quickly but is a very emollient oil.  I find that FCO actually makes my products so dry that I barely call it an oil at all!
So, when choosing your ingredients for your next beauty adventure, consider Meadowfoam Seed Oil. You will still need your antioxidant, but you can at least put most of your mind at ease on your product's shelf life..    -which is a great feeling.
It also rates zero on the comedogenic scale, meaning it is not known to cause acne or clog pores.
     Natural Sourcing cites that Meadowfoam seed oil is "a highly moisturizing oil that nourishes and protects the skin, lips and hair from moisture loss when used in cosmetics and personal care product formulation".
http://www.naturalsourcing.com/email/eMeadowfoamOil0416.asp?track=eMeadowfoamOil0416
     This oil is a delight and an extremely rare find at this price.  I thought it would be good to share why I prefer this oil since I will be using this oil in many of my upcoming blog posts, such as my lip balm, hair conditioner and body scrub.  It also feels great when applied right from the bottle and for super-fatting soap! 
     So do yourself and your line a favor, and add some flare to your ingredient list, as well as some luxurious properties to your next project...  And do not forget the additional shelf life! 
     Meadowfoam seed oil can bring attention to your products because it has a renowned reputation that is not overly exploited.  It is still a great, little secret!  So add this little secret to your Ingredient Cabinet and know you will be investing in your products, and in your marketing as well.
     Let us know what you think of Meadowfoam Seed Oil.  What do you use it in and why?   How has it helped your label-appeal and product success?
     Thank you for shopping at Soaper's Supplies.  We hope you enjoy R.J's Blog and look forward to your comments!
RJ's Skincare Blog and any included recipes are researched and written by Angela D'Amico.