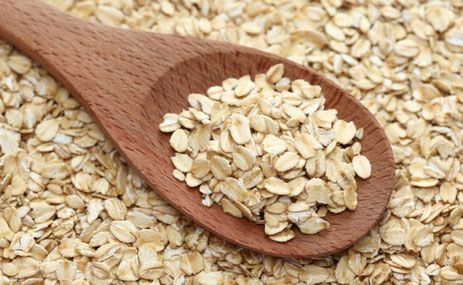 Today we will make a Moisturizing Face Mask!       
     Oats have always been renowned for their nutritional benefits at breakfast or even in cookie-form, but, did you know that this simple plant has hair and skin-loving properties when applied topically?  Oats contain Saponins, known to be  cleansing to even the most sensitive skin.  They also are known to have high humectant qualities, allowing them to naturally pull water from the air.  Depending upon which product you include Oats or Oat Protein, you can find a soothing, moisturizing and calming ingredient that is sure to meet the individual needs of your diverse clientele.  
     The Huffington Post cites that "Colloidal oatmeal, a natural product produced from finely ground oat grains that are boiled to produce an extract, is full of vitamins, minerals and lipids that add moisture to benefit the condition of one's skin. Board-certified dermatologist Dr. Susan Stuart told us, "Oatmeal contains both anti-inflammatory and antioxidant properties and as such is ideal for sensitive skin and to treat a variety of skin disorders (i.e sunburns, eczema and poison ivy)."  This highly, informative article offers several additional formulation ideas for the usage of Oats in skin and hair-care products.

http://www.huffingtonpost.com/2013/11/05/oatmeal-beauty-benefits_n_4214053.html    
     When soaping, you can enjoy Soaper's Supplies Colloidal Oats directly in the bars as a light exfoliant, or even boil them and use the soothing properties of the water directly in the recipe. 
     When used in hair products, Oats can act as a dry shampoo for blond or light-colored hair.  Apply a fine sprinkle of ground Oats throughout the hair, especially near the scalp, as to allow absorption of any excess oil. Then comb/brush out after approximately fifteen minutes.
     If it is moisturized, conditioned hair you are seeking, then consider adding Soaper's Supplies Oat Protein and luxurious Oat Carrier Oil to your next hair conditioner.  (Oat oil will draw attention to your label as well as act as a stabilizer/co-emulsifier in your lotions and hair conditioners.)  You will be excited to know that Rae Jean's Blog will be sharing some fun and versatile Hair Conditioning Formulas!

     The addition of Oat Protein to your water component in any hair conditioner or skin lotion can improve moisture and feel.  In lotion, Oat Protein calms angry, dry skin and soothes problematic areas.  It is an amazing humectant that will pull moisture from the air and into your lotion's target area.   Usage rates vary but Oat Protein is usually used between 1% and 5%, depending on your product.  This is another great ingredient to have on hand as it fits into almost any formula, thereby increasing moisture.
     Because it is water-soluble, it makes an amazing addition to face toners, body milks and moisture sprays.  I will be sharing a formula for a  refreshing and soothing skin toner in an upcoming blog post.    This will be the ideal product to pair with any face soap or cleanser in your line, as a good toner removes excess debris, clears and closes pores, and adds a dewy glow to your appearance.

     You can also add Colloidal Oats to Face Masks!  This is one of my favorite things to put into my many different face masks because it gently absorbs oil, yet seems to give a moisturizing effect as well.  I do plan on sharing several fun and inventive face mask formulas here, and since we are discussing Oats and Oat Protein, today I will start with my basic "Toning Moisture Mask, with Oatmeal".   Follow our upcoming blog posts for my "Good Morning Fresh-Face Mask", my "Unwind the Hands/Reverse the Sands Mask" for the age-conscious customer, and my "Detoxifying Rejuvenation Mask" for oily/problematic skin.

     Remember, if you sell face masks it is highly suggested that you keep the ingredients DRY and instruct the customer to remove the desired amount of dry product from the container and add a wetting ingredient, such as distilled water, aloe juice, or a Soaper's Supplies Hydrosol like Rose Water.  Each hydrosol has its own skin properties and I will be discussing them in an upcoming blog, but Rose Water is nice to use in most products, as it is known to be beneficial in almost every application, whether for sensitive, dry, or even oily-problematic skin.  So if you love the natural scent  of hydrosols, each renowned for a different skin type, then stay in the Bubble because Rae Jean's Skincare Blog will soon have this great discussion! 

Soaper's Supplies "Toning Moisture Mask, with Oatmeal"
Soaper's Supplies Colloidal Oats  45%
Soaper's Supplies White Kaolin Clay  20%(most Kaolin clay will work if it has little to no absorption qualities)
Soaper's Supplies Rhassoul Clay 20%
(This clay will not over-dry the skin and is known to promote the appearance of toned skin and improved appearance of circulation to the face.)  We will discuss clay and their individual properties in an upcoming blog.
Soaper's Supplies Honey Powder 15%
Soaper's Supplies Aloe or Hydrosol if desired.
NOTE:   If selling this mask,  I find powdered aloe can be used in place of a small percentage of the ingredients and then wet with a lovely Soaper's Supplies Hydrosol.  I used Rose Water as it seems to lend a moisturized appearance to the skin.
Combine ingredients and suggest customer wet with aloe juice, yogurt, rose water or distilled water.   Any wet mask should be used within two days, (refrigerated), -or discarded.  I suggest using a tablespoon of mask and add the wetting agent a teaspoon at a time till mask is the desired texture. 
Apply to face and wait approximately 15 minutes before washing away with a warm, wet washcloth. 
I actually made this on a very small scale (couple of grams) before sharing here, and I now plan on making a larger batch to keep on hand.  It is the "next day" and my skin feels soft, supple and smooth!
     This formula can be customized to your preference.  If more "toned"  appearance is desired, or if used on oilier/ problematic skin, then consider increasing the Rhassoul Clay.  You cannot mess this up!  It is easy and fun and you will be amazed how soft the skin appears after using the Oats!  I would not omit clay as it works as a binding agent and helps form the "mask"..  I also highly recommend using aloe juice somewhere in this formula but it is a very forgiving recipe that you can "make your own".  One could even make an "Oatmeal, Milk and Honey Mask" with Soaper's Supplies Oats, Milk Powder, and dried Honey!  I would still include some white Kaolin to create the binding effect of a face mask.
     So try this delightful mask and let us know what you think of Oats in your beauty line.  I know that Oats and Oat Protein have improved every product in which I have included them.  I can not wait to share our formulas containing the luxurious Oat Oil and skin loving Oat Protein.  They both are excellent additions to lotions and hair-care!  
     So Friends, what would you like to discuss next?  Does anyone have any "Oat Formulas" that they would like to learn?  Would you like to jump further into the variety of Face Masks you can create for your own business? Thank you for visiting Rae Jean's Skin-Care Blog and for shopping at Soaper's Supplies!  

We love your feedback and welcome your comments and suggestions. 

RJ's Skincare Blog and any included recipes are researched and written by Angela D'Amico.