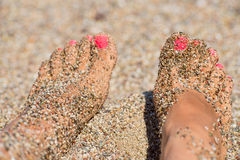 Summer sand and open shoes have been punishing our feet for months.  We started the season with soft, silky feet.  We proudly paraded our pedicured toes, all painted with the trendiest colors of the season!  Now, as the summer's end draws closer, we look at those same feet and wonder "WHAT HAPPENED"?  Could these rough and callused hooves be the same tantalizing "tootsies" from which we so delicately dangled our sexy, summer, "one of a kind"-sandals?  How could these hang-nail covered, rough and raggedy feet be the same ones we just spent the summer dipping in pools and frolicking in the sand?   
     Patricia Nicholson from Women's Health Matters, cites that "Your feet don't just take you from place to place. In addition to making you mobile, your feet help you balance, support your body, and act as your body's shock absorbers, enduring enormous amounts of pressure every day. With that much going on below your knees, it's no surprise that feet may need some care and attention".   Read more about our feet and their special needs in this interesting and informative article.  http://www.womenshealthmatters.ca/feature-articles/feature-articles/feet-first-proper-foot-care-will-keep-you-on-your-toes.

     Let's face it...  Our feet need HELP!   And if our feet are suffering, then I bet our customer's feet could use some help too!  So let's get formulating!  And the best part, is that this is a reasonably priced, easy to make "Sole-Lution" to the Summer Feet Blues! 
     So what should you use?  Luckily Soaper's Supplies has it all figured out for you!  Soaper's Supplies "Foot Fetish" kit has everything you need.  A good foot soak to soften the rough, dead skin and calluses to start.   Rae Jean's Salt blend will soothe, soften and prep the feet for step two which will be a relaxing exfoliating scrub to rid the rough spots we just softened in the luxury salt soak.  The final step is Soaper's Supplies foot cream which will bring those newly polished feet back to life again.  It will soothe, soften and really condition the thick skin of the feet. 
     Your customers will love this, -and you will love how easy it is to make.   Plus the ingredients will attract a lot of label appeal.  There are exotic, nourishing butters and upscale, humectants, not to mention Rae Jean's top of the line exfoliating ingredients!  This is a unisex item with a fresh fragrance that both men and women will find invigorating and delightful!  You could probably make an adorable gift-box style package with each of the three products sitting on some raffia or wrapped in pretty tissue.  It is also a great way to add some flare to your inventory as summer ends, -but before the Holiday stress begins. 
     If anyone has any unique packaging ideas for the "Foot Fetish Kit", please, share here in comments and tell us how you have given this kit your own style!

     Visit and join the Soaper's Supplies Facebook Community Class page to get these luxurious foot-pampering kits!  https://www.facebook.com/groups/soaperssuplliesbathandbodycommunity/ Or, visit the Soaper's Supplies Facebook page directly and leave a comment or message for an administrator.  https://www.facebook.com/groups/soaperssuppliessales/permalink/319658738371861/?comment_id=319662018371533&reply_comment_id=319663888371346&notif_t=group_comment&notif_id=1471550553582658
     Thank you for reading RJ's Skincare Blog and for shopping at Soaper's Supplies.  We love your comments, ideas and feedback so please feel free to share your thoughts below!  

RJ's Skincare Blog and any included recipes are researched and written by Angela D'Amico.