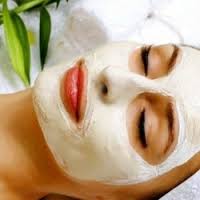 You can instantly change your skin's appearance and its overall appearance over time, by using a customized face mask that is designed from the variety of Soaper's Supplies ingredients.  If you are designing masks for yourself you can take our dry ingredients and wet them with our aloe juice or floral hydrosols, but you will then need to add a preservative and use within a reasonable amount of time, (for instance -two weeks..).  
So Should you include a skin mask in your beauty line?  Yes!  According to Discover Good Nutrition, " Face masks are the perfect skin care treatment to help you with your skin care concerns.  The right face mask can help hydrate skin, remove excess oils and help improve the appearance of your pores.  They're also an excellent way to help pull out impurities. Another advantage of wearing a face mask: the feeling of being pampered like you're at a spa from the comfort of your own home!
     If you are making masks for your customers it is suggested that you stick to dry ingredients and include "wetting" instructions for your customer.  They can use water, yogurt, honey, floral waters, aloe juice or any combination.  They should take what they need from the dry ingredients for a one-time, single use mask.  This allows the ingredients to have a much longer shelf-life and there will be no worries over which preservative to choose! 
     What are the ingredients necessary for a great face mask?  Decide who your customer is and what skin type they have.  If you have customers with oily or problematic skin then you may not be able to state "helps acne", but, you can include ingredients renowned for cleaning and detoxifying pores.  
     Some of the best ingredients for a face mask intended for oily skin are; Soaper's Supplies Bentonite Clay, Soaper's Supplies Glacial Clay,  Multani Mitti (Fuller's Earth) clay,  Sea Clay and  French Green Clay.

     There are also clay choices better for toning skin and giving a firmer appearance, like Soaper's Supplies Rhassoul clay, Soaper's Supplies Glacial Clay and  Soaper's Supplies Tan/Yellow Illite...   When using these clay types it is good to compliment them with other toning or moisturizing powders.  You can make a toning face mask that also absorbs oil if you combine two different types of clay and add gentler ingredients to ensure the mask is not irritating.
     The inclusion of oats, honey and other botanical powders will almost always make a mask that actually moisturizes dry skin types.  It is amazing what the right combination of botanical powders and clay can do for each individual skin-type.
     Masks are generally worn for fifteen minutes or so..  Some people wear them till dry and rinse away.  Some are comfortable enough to sleep with on problematic areas.  It is highly recommended that user checks for irritation or discomfort upon application and discontinues use if irritation develops.  Masks are removed with warm water, usually using a soft wash-cloth.
     We have a great formula for a face mask for all customers including those with oily, dry, or mature skin types. Skin Masks are very easy and adjustable so take these simple steps, and then make them your own.

The ingredients in the masks below can be accessed easily in the Soaper's Supplies Store by simply clicking upon each one.
Face  Mask for Customers with an oily skin type
1/2 Cup Soaper's Supplies Multani Mitti, (or) Bentonite, (or) Sea Clay
1/4 Cup Soaper's Supplies Rose Clay, (or)  French Pink Clay, (or) White Kaolin Clay
1/4 Cup Soaper's Supplies Oat Powder
   2  Tbs  Soaper's Supplies Honey Powder
   1  Tbs  Soaper's Supplies Yogurt Powder
 1/2tsp  Soaper's Supplies Activated Charcoal   (Wear protective mask to avoid inhaling dust).
Mix ingredients and portion into containers.  Label according to your local laws and FDA Guidelines.  Customers should moisten one-two Tablespoons of product with desired wetting agent of choice, by adding chosen liquid one teaspoon at a time.
Instruct customer to take one-two Tablespoons of product out of container and place in a non-metal bowl.  Customer may moisten with wetting agent of choice.  The honey and yogurt will "activate" once wet, as will the clay powders.
Note:  Do not store or prepare clay in metal containers or with metal utensils as this causes a reaction with the clay's minerals which lessen its benefits.  Instruct customers and label accordingly.
Toning Skin Mask for Customers with Normal Skin or Aging Skin
1/4 Cup Soaper's Supplies Rhassoul Clay, (or)1/4 Cup Soaper's Supplies Glacial Clay
1/4 Cup Soaper's Supplies French Yellow Clay 
1/4 Cup Soaper's Supplies Oat Powder
    2 Tbs  Soaper's Supplies Honey Powder
    1Tbs   Soaper's Supplies Rose Hip Powder
    1Tbs   Soaper's Supplies Green Tea Powdered Extract    
    1Tbs   Soaper's Supplies Cucumber Powdered Extract
Follow mixing instructions listed above for "Oily Skin-Type Mask".
Moisturizing Mask for Normal-Dry, Sensitive, or Mature Skin
1/2 Cup Soaper's Supplies Oat Powder
1/4 Cup Soaper's Supplies French Pink Clay, (or) Rose Clay, (or) White Kaolin Clay
3 + Tbs  Soaper's Supplies Honey Powder
    1 Tbs  Soaper's Supplies Olive Leaf Powdered Extract
    1 Tbs  Soaper's Supplies Yogurt Powder
    1 Tbs  Soaper's Supplies Carrot Powder
Follow mixing instructions listed above for previous masks.  Wetting this mask with  Soaper Supplies Hydrosol  (such as Rosewater), or Soaper's Supplies Aloe Juice would increase its moisturizing effects.  It is not recommended to sell or give the mask away already wet as it is difficult to preserve botanical ingredients.  Instructions on "best" wetting agents can be listed on product. 
Essential Oils can be added (a few drops to an entire batch, and then well-mixed) to any face mask formula but it is recommended that you master making these dry formulations prior to attempting the inclusion of Essential Oils as they are very potent. 
Some EO's that are good in oily skin-type masks are Tea Tree Oil and Lavender.  Other EO's renowned in skin-care, particularly anti-aging products are: Carrot Seed EO,  Litsea Cubeba EO, Rose-Geranium EO, and Melissa EO.  Please read our Essential Oil safety disclaimer below before adding these to any face product.  Remember, just a few drops of essential oil are the maximum amount suggested for any face mask, so mixing them uniformly into the clay and powders will be challenging but necessary.

          Masks are very easy to make and can be a fun addition to your line.  Their ingredients are very adjustable, for example,  if you find a mask too drying you can reduce the amount of its absorbing clay.  If you find it too wet you can add less liquid.  If the mask seems too harsh or stings, it can "usually" be remedied by increasing the honey powder or by using aloe juice as the wetting agent.  If irritation persists or is bothersome, the mask should be removed at once.

     Remember to instruct your customers to only take the amount needed for that one use from the container as once the powders are wet they are not going to keep.   Any moistened mask that is leftover should be thrown away.
      We appreciate your business and welcome your comments, concerns and questions.  Thank you for Shopping at Soaper's Supplies and for reading RJ's Skincare Blog!

RJ's Skincare Blog and included recipes are researched and written by Angela D'amico.
     Thank ou for reading RJ's Skincarie